When The Biggest Loser comes back to TV in January 2020 on the USA Network, Bob Harper will be its host, as he was for the last season of the popular weight loss reality show in 2016.
This time, the show promises to be different—different trainers, different doctors and a different approach, including a focus on "aftercare," meaning support when the show is over.
"It's not about getting skinny, it's about getting healthy," Harper told People. "You see people getting off medication, reversing their type 2 diabetes, lowering their blood pressure."
This vision for the show aligns with Harper's updated view on health.
"When I heard about the reboot, I thought it was a perfect fit," says Harper, 53, who was a trainer on the show for 16 seasons before becoming the host. "I feel like I understand The Biggest Loser contestants more than I ever have," he told Men's Health.
"When I suffered my heart attack more than two years ago, I was having to start back at square one," Harper said. He was doing a CrossFit workout in February 2017, and woke up in the hospital two days later to discover he'd not only had a heart attack, but went into cardiac arrest. "I was dead on that floor for several minutes," he said. "After that, I could not walk a city block without feeling winded." (Check out his workout routine today.)
Harper says the new season will have a bigger focus on wellness. But what is wellness? "That term gets thrown around a lot," Harper said, "but I hope people attach a meaning to that word that has to do with not only taking care of yourself physically, but also with components like how you manage your stress and what you say to yourself."
He explained to Variety that licensed psychiatrists met with contestants behind-the-scenes. On camera, Harper leads support groups where people can discuss their struggles.
"We give them an outlet to get what's going on in their head out into the real world, seek solace, feel a little bit better about themselves because it is a struggle," he told Variety.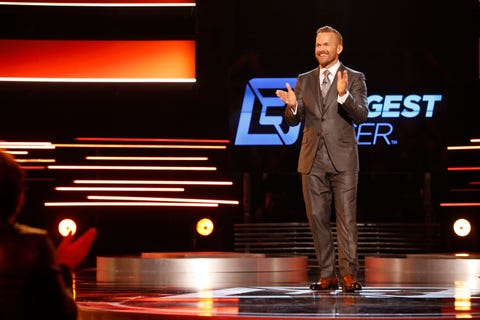 Bob Harper hosted The Biggest Loser in 2016, after being a long-time trainer on the show.

NBCGetty Images
Harper doesn't claim it's easy. "Change is hard in any way or capacity. I was so used to doing everything a certain way before my heart attack, and when I had to rethink everything, all the rules changed and my old routines had to be thrown out," he said. "I have always been a control freak—I like to say control enthusiast—and when I suffered my heart attack, I realized I needed to relinquish control and be vulnerable and open and honest with myself. It's been something that has been a process." One that comes with any kind of change, he said.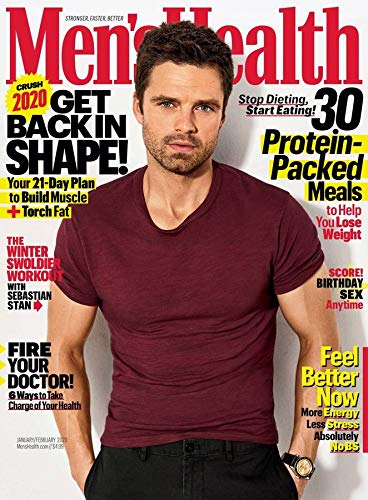 Amazon
Men's Health
Hearst Magazines
SHOP NOW
After his heart attack, Harper became a slightly different type of informal trainer. For the past year, he's been working with AstraZeneca-sponsored Survivors Have Heart, meeting with small groups of heart attack survivors about their stories and how they are all moving on.
In recent years, The Biggest Loser came under attack for numerous reasons, including research in the journal Obesity about past contestants who not only gained weight back, but were also found to have slower metabolisms than when they started. "I think that weight loss is super controversial," said Harper. "And it's something that never has a finish line. A lot of people want there to be one but there isn't one." Which he sees as more of a constant challenge than a problem. It's all about figuring out how to get over the hurdle of stress on any given day, whether it's dealing with food, exercise, and weight, or a heart that wasn't as healthy as you thought. "Two and a half years ago, I was in a CrossFit gym one minute and woke up two days later in a hospital. In my career, I've tried to do some sort of good for people. I'm going to do everything in my power to take advantage of this second chance."
Source: Read Full Article