For our free coronavirus pandemic coverage, learn more here.
Victoria's lockdown-battered gym owners have missed out on their traditional boom because the Omicron-driven spike in coronavirus cases has kept would-be customers from fulfilling their New Year's resolutions to get fitter and healthier.
"This has been the quietest start to a new year for a long time," said Liam Crivelli, owner of Revive PT in Eltham. "The only thing keeping a lot of people away would be uncertainty or fear around [Omicron]."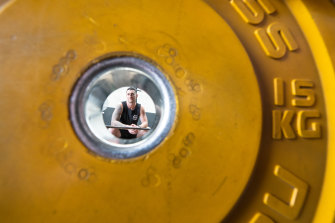 Gym owner Liam Crivelli says the start to the year has been very quiet.Credit:Jason South
Barry Elvish, chief executive of health and exercise industry association AUSActive, said that when double vaccinated Victorians were allowed to head back to exercise venues last year, gym attendance from members and newcomers alike rose.
"Speaking anecdotally to our members, most of the gyms had got back to pre-COVID numbers, and in some cases above pre-COVID numbers," he said.
But gym attendance started dropping off a few weeks ago, and Mr Crivelli says the decline in linked directly to skyrocketing COVID numbers.
"Members chose to put their membership on suspension when things got a bit uncertain at the start of the year definitely and then over the last couple of weeks," he said.
"They were uncertain about the environment they were going into. All the people that were training side-by-side, they seem to be more fearful of who they were and who they've been in contact with."
Another reason gym attendance is down and membership suspensions are up, according to Mr Crivelli, is the massive increase in people catching the virus and being forced into isolation.
"We're getting a lot more suspensions now because obviously more and more members are testing positive or their partners are positive," he said.
And gym members who work in high-risk environments, such as hospitals and aged care centres, are suspending their memberships because they're being advised to stay away from gyms while they're working, Mr Crivelli said.
"We've got clients that might work at ICU at hospitals, so they've got to limit who they see because they're constantly in high-risk or close contact situations," he added.
But for a few loyal members, the threat of Omicron is outweighed by the benefits of being able to exercise at a gym.
Jodi Gibney and her husband, who live in Melbourne's north-east, were among those to rush back to the gym as soon as the doors opened after the last lockdown.
"It was horrible not being able to go to the gym," she said. "We were one of the first ones there the minute we were all allowed back."
"We've both been back training four or five times a week and absolutely loving life and loving being back."
"For us, it's just making such a difference having gym. That physical outlet helps us deal better with everything else, like both working and kids."
During the pandemic, Ms Gibney and her husband tried to stay fit by doing online exercise classes, but working long hours and raising young children made it difficult to maintain their fitness.
"It was a pretty full on, horrible period for us to be honest. But we tried to do things like tag-team runs or walks early in the morning, or on our lunch break fit in a [session by] zoom where we could," she said.
"For us, the mental health is just so important. We're fully vaccinated, so hopefully, if we catch it [the virus], it's not going to be as bad as if we weren't."
Stay across the most crucial developments related to the pandemic with the Coronavirus Update. Sign up for the weekly newsletter.
Most Viewed in Lifestyle
From our partners
Source: Read Full Article