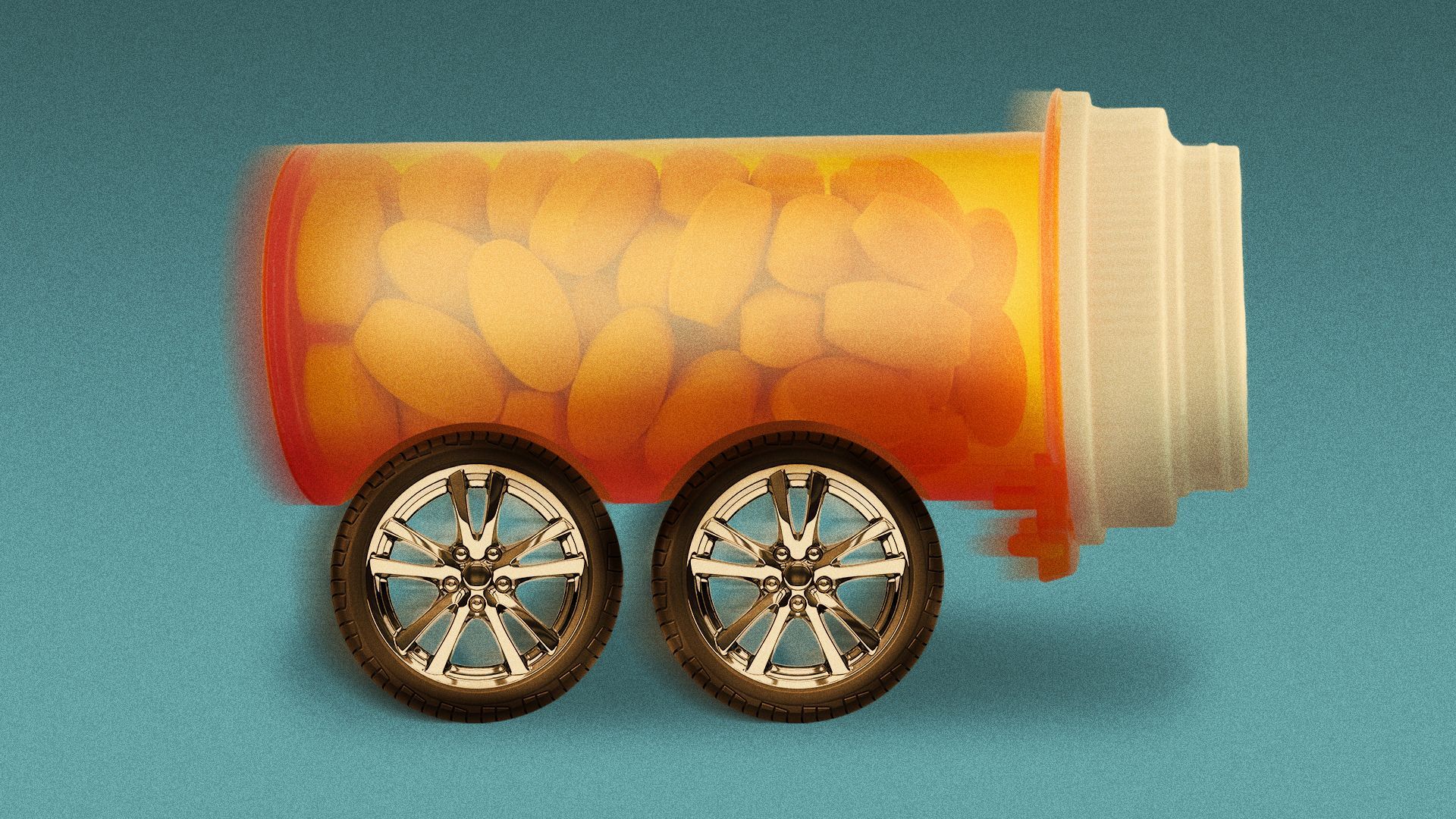 Illustration: Shoshana Gordon/Axios
Uber Health is moving to further embed itself into health care delivery by allowing doctors and other providers to arrange to have prescriptions dropped off the same day at their patients' homes.
Why it matters: Getting patients to adhere to schedules for taking drugs has long been an Achilles heel in health care, particularly amid the shift to value-based care models, in which providers make more money by keeping people out of hospitals.
One big reason patients don't take their meds is that they don't make it that last mile to the pharmacy.
Uber says the new service allows a care coordinator who already the ride-share company to transport patients to also ship prescription drugs and track that they arrived.
What they're saying: "So often those things that lead to the readmission is that the patient didn't have a ride to their follow-up appointment … or that the patient had forgotten to pick up an antibiotic on the way home from the hospital," Caitlin Donovan, the global head of Uber Health, told Axios.
"This empowers a care coordinator to not give their patient homework and close the loop on their behalf."
Between the lines: Uber and Lyft have significant health divisions with investments in non-emergency medical transit, as well as COVID vaccinations and consumer drug delivery.
Uber Health specifically has been seeking to embed within the care delivery workflow and find ways to connect parts of the health care ecosystem beyond simple ride-hailing logistics, Axios' Erin Brodwin has reported.
The company has also been eyeing a move into delivery services for specialized meals and medical devices, Yahoo News reported. It's also making a push into the employer-sponsored market, Fierce Healthcare reported.
Be smart: Prescription delivery through Uber has already been available for from some pharmacies with the help of a partnership with ScriptDrop, getting prescriptions to patients much the way Uber Eats works with restaurants to deliver food. "That was a stepping stone to offer this more nuanced product," Donovan said.
What to watch: The company expects to branch out soon into the delivery of healthy food and over-the-counter medicine for patients, including Medicare Advantage and Medicaid beneficiaries.
Source: Read Full Article