Triple-negative breast cancer (TNBC) — characterized by the lack of expression of estrogen receptor, progesterone receptor, and human epidermal growth factor receptor 2 (HER2) — remains a challenge to treat because it has no clear biological target.
In the hunt for a target, a team of American researchers may have found a druggable spot: the inducible nitric oxide signaling (NOS) pathway.
In a phase 2 trial of 24 patients with chemo-resistant, locally advanced and metastatic TNBC, the use of a first-in-class pan-NOS inhibitor known as NG-monomethyl-l-arginine (L-NMMA) alongside docetaxel yielded an overall response rate of 45.8% (11 of 24 patients).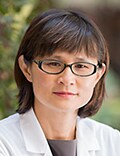 Dr Jenny Chang
The response rate is above the "usual expected" 25% to 30% in this setting, senior author Jenny C. Chang, MD, of Houston Methodist Research Institute, Texas, told Medscape Medical News.
The results were published online December 15 in Science Translational Medicine.
In the nonrandomized, nonblinded trial, 24 patients were treated with L-NMMA at 20 mg/kg plus a taxane at the standard chemotherapy dose. Patients received a maximum of six (21-day) cycles of the combination, with L-NMMA administered as a 2-hour intravenous infusion on days 1 to 5 of each cycle.
Overall, 9 of 11 with locally advanced disease responded (81.8%) to treatment, with four (36.4%) showing a complete response and five (45.5%) having a partial response.
In the group with metastatic disease, 2 of 13 patients responded (15.4%) to treatment, and more than half (53.8%) demonstrated a clinical benefit, which combines rates for complete and partial responses as well as stable disease.
The results in metastatic TNBC "are noteworthy for patients who had already received a median of five prior chemotherapy regimens," Chang and colleagues write.
In addition, grade ≥3 toxicity was observed in 21% of patients but no adverse events were attributed to L-NMMA.
Charles Shapiro, MD, of the Icahn School of Medicine at Mount Sinai in New York City, says "the antitumor activity is impressive and encouraging."
Shapiro, who was not involved in the trial, told Medscape Medical News that he believes the agent is ready for next stage of research, which should be a phase 2 trial investigating the drug's effectiveness in less heavily pretreated patients with TNBC.
Chang, who is the sole inventor on a patent application for cancer treatment methods "using iNOS-inhibitory compositions," confirmed that this trial is the first to investigate a NOS inhibitor in breast cancer.
Previously, L-NMMA was studied in the management of cardiogenic shock in a phase 3 trial and had a "safe" toxicity profile, the current study authors said. However, the agent is associated with treatment-induced hypertension.
To prevent L-NMMA–induced hypertension, patients in the trial received amlodipine (10 mg) for 6 days in each cycle. Enteric-coated low-dose aspirin (81 mg) was orally administered once daily throughout as thromboembolic prophylaxis.
The authors propose a potential mechanistic basis for the oncologic responses observed in the current trial.
"In previous work, we identified RPL39 and MLF2 genes to be associated with treatment resistance. Through bioinformatic analyses, we determined that inducible NOS signaling is a primary pathway common to both genes," the researchers explain.
The findings also suggest a boost to the immune system in patients who responded to treatment. During cycle 1 (day 17), the researchers reported "a trend in higher numbers of CD4 and CD8 T cells in responders compared to nonresponders." The trends remained consistent during cycle 2 (day 38) for CD8 T cell and monocyte populations, but there was no observable difference in CD4 T cell numbers between the two groups.
Compared to nonresponders, responders had higher CD15+ neutrophil counts and lower levels of arginase, a marker of tumor-supporting immune cells. In addition, breast tissue samples from responder patients had a higher baseline expression of NOS, which decreased at the end of treatment.
"We are actively investigating these phenotypic changes in immune cell populations in preclinical mouse models and plan to validate our results in a future phase 3 trial," the team writes.
This work was supported, in part, by the National Cancer Institute, Breast Cancer Research Foundation, Moran Foundation, Causes for a Cure, M. Neal and R. Neal, and the Center for Drug Repositioning and Development Program. A number of study authors report financial ties to industry. Four authors, including Chang, are coinventors on patent application for a method of predicting response to L-NMMA treatment for triple-negative breast cancer.
Sci Transl Med. Published online December 15, 2021. Abstract
Nick Mulcahy is an award-winning senior journalist for Medscape, focusing on oncology, and can be reached at [email protected] and on Twitter: @MulcahyNick
For more from Medscape Oncology, join us on Twitter and Facebook.
Source: Read Full Article