Here's a meditation for you: What if there existed a noodle that contained virtually no calories?
Much like the old meditation, "If a tree falls down in the forest, and no one is around to heart it, does it make a sound?" this noodle question messes with your mind.
But noodles, by definition, must be made of carbohydrates, which contain calories. If my very understand of a noodles is incorrect, what else about my perspective in wrong? Who am I? Where am I?
Step back from the threshold, and allow us to present to you shirataki.
These translucent noodles are made from the powdered root of the Asian konjac yam. After processing, the noodles from this yam consist mostly of a no-calorie, highly soluble fiber called glucomannan. And that fiber is why shirataki is more than just a pasta imposter.
According to a study review by University of Connecticut researchers, glucomannan helps lower bad LDL cholesterol, triglycerides, fasting blood sugar, and even body weight. What's more, scientists in Thailand found that just 1 gram has the power to significantly slow the absorption of sugar into your bloodstream after you eat a carb-loaded meal. Translation: Shirataki noodles can make almost any meal healthier.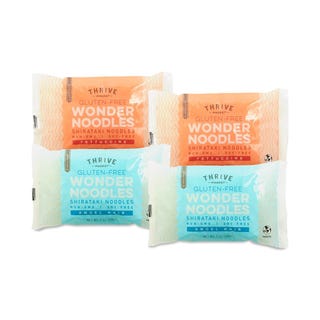 Except, as always, there's a catch. Shirataki noodles have almost no flavor, and, in fact, can have an "smell" to them if you're not use to working them into your meals.
But the upside is that they soak up the flavors of sauces and spices in any dish—if you know what you're doing. And that odor is actually just the liquid that the noodles come packaged with. Rinse them off and cook them and it'll be a non-factor.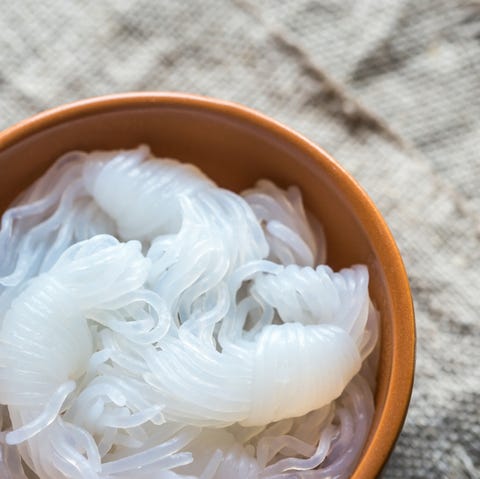 So, what to cook?
We challenged three top chefs to incorporate these miracle noodles into their favorite culinary creations.
Soy Pork Shirataki Stir-Fry
The shirataki noodles create a high-fiber base in this flavor-packed stir-fry, courtesy of Ming Tsai, chef and owner of Blue Ginger in Wellesley, Massachusetts, and host of American Public Television's Simply Ming.
What You'll Need:
Canola oil
2 Tbsp minced garlic
1 Tbsp minced ginger
Kosher salt and freshly ground black pepper
1/4 cup naturally brewed soy sauce (sub in low-sodium soy, if you prefer)
1/4 cup fresh lime juice
1/4 cup brown sugar
1 head bok choy, rinsed, spun dry, and cut into pieces
1/2 bunch scallions, thinly sliced, whites and greens separated
2 red bell peppers, cut into 1-by-1-inch pieces
1 lb ground pork, browned
2 cups fettuccine-type shirataki noodles, packed, rinsed well (three times), and drained
How to Make it:
1. Coat the bottom of a saucepan lightly with canola oil and place it on medium heat. Add the garlic and ginger, along with a pinch of salt and pepper. Cook until softened, about 3 minutes.
2. Add the lime juice, soy sauce, and sugar. Bring to a simmer and let the mixture reduce by a third to a syrup consistency, 8 to 10 minutes. To check consistency, pour a line of syrup on a cool dish and hold it vertically. If the line holds with a few drips, it's ready.
3. Use some oil to lightly coat the bottom of a large, hot wok over high heat. (If you don't have a wok, you can use a skillet over high heat.) When the oil is shimmering, add the bok choy, scallion whites, and red bell peppers, and stir-fry until they're slightly softened, about 1 minute. Add the pork, noodles, and garlic-ginger-soy syrup, and stir to coat the noodles with sauce. Check for flavor, and season with salt and pepper if necessary. Serve family-style on a platter, garnished with scallion greens. Serves 4
Per serving: 461 calories, 35 grams (g) protein, 27 g carbohydrates, 25 g fat, 7 g fiber
Shirataki Noodle Cake with Shrimp and Chorizo
Try this Spanish-style shirataki dish from Boston chef Ken Oringer, owner of Clio, Uni, Toro, KO Prime, and La Verdad.
What You'll Need:
1 package (8 oz) shirataki noodles, rinsed and drained
3 eggs
2 cups shredded zucchini
1/2 cup shredded carrots
1/2 cup chopped scallions
8 oz chopped raw shrimp
8 oz ground chorizo
1 cup flour
Salt and pepper to taste
1 clove garlic, chopped
1 cup olive oil
How to Make It:
1. Chop the noodle strands into thirds. Combine with the other ingredients (except the olive oil) in a mixing bowl.
2. Heat a skillet on medium high and add enough olive oil to coat the bottom of the pan. Scoop one-fourth of the mixture into the pan, cooking until golden brown. Flip and cook again till golden brown.
3. Serve with mayonnaise mixed with minced garlic and lemon juice. Serves 4 (two cakes each)
Per serving: 632 calories, 34 g protein, 30 g carbohydrates, 41 g fat, 5 g fiber
Caprese Pasta Salad
Here's a take on an Italian classic from Michael White, the executive chef and a partner at Convivio in New York City.
What You'll Need:
1 lb asparagus, thinly sliced lengthwise (use a vegetable peeler)
8 oz shirataki noodles, rinsed and drained
3 large heirloom tomatoes, chopped
1/2 cup green peas, cooked
1 cup diced fresh mozzarella
1/4 cup chopped fresh basil
Juice of one lemon
1/3 cup extra-virgin olive oil
Salt and freshly ground pepper to taste
How to Make It:
1. Cook the asparagus in boiling salted water for 3 to 5 minutes. Remove the slices with a slotted spoon, drop them into ice water, and then drain them.
2. Place the noodles in the pot of boiling water for 30 seconds to warm them. Then drain the noodles and put them in a large bowl. Add the asparagus and the remaining ingredients–the tomatoes, green peas, mozzarella, basil, lemon juice, olive oil, and salt and pepper–and toss everything together. Serves 4
Per serving: 386 calories, 15 g protein, 12 g carbohydrates, 31 g fat, 7 g fiber
Shirataki Noodles al Pesto
Pesto without pasta? You won't miss it with this shirataki version from Chef White.
What You'll Need:
2 cups fresh basil leaves
1/2 cup fresh parsley leaves, packed
1/4 cup grated Parmigiano Reggiano cheese
1/2 cup chilled olive oil
1 clove garlic
1/4 cup pine nuts
Salt and pepper to taste
1 cup string beans
1 package (8 oz) shirataki noodles, rinsed and drained
How to Make It:
1. Combine the basil and parsley in a food processor and pulse until a paste begins to form.
2. Add the cheese, olive oil, garlic, and pine nuts. Pulse again until the mixture is a creamy paste, and then add salt and pepper.
3. Cook the string beans in boiling salted water for 2 to 3 minutes. Spoon them out, drop them briefly into ice water, and drain them. Now drop the noodles into the boiling water for 30 seconds. Drain and transfer them to a bowl, add the pesto and string beans, and toss well. Grate extra cheese on top and serve immediately. Serves 4
Per serving: 379 calories, 8 g protein, 12 g carbohydrates, 35 g fat, 7 g fiber
Source: Read Full Article