After 8 weeks, eight out of ten people with seborrheic dermatitis saw their symptoms cleared or improved with once-daily treatment with roflumilast 0.3% foam, according to the results of the phase 3 STRATUM trial.
More than half experienced clearance of their symptoms, and three out of five achieved a significant improvement in pruritus, it was revealed during a late-breaking session at the European Academy of Dermatology and Venereology (EADV) 2022 Annual Meeting.
Common Condition Led to Rapid Recruitment
"Seborrheic dermatitis is a disease that's very common, yet in my opinion, undertreated in dermatology," said Andrew Blauvelt, MD, MBA, who presented the findings.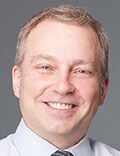 Dr Andrew Blauvelt
"It's so common that when we did this trial, I was very surprised to see how easy it was to recruit," said Blauvelt, a dermatologist who is president of the Oregon Medical Research Center in Portland. "Patients came in rapidly, out of the woodwork — they were desperate."
While there are several tried and tested treatments for the condition, such as topical steroids and antifungal agents, he noted that they have their limitations: "Sometimes efficacy, sometimes the ability to be used on hair-bearing areas."
Roflumilast is a phosphodiesterase 4 (PDE4) inhibitor that is available for topical use in a 0.3% cream formulation (Zoryve). This formulation gained FDA approval for plaque psoriasis for patients ages 12 and older this summer and is also under investigation as a treatment for atopic dermatitis.
It's the same product in both preparations, Blauvelt said during the discussion period. "The only major difference between the cream and the foam is the propellant used to make it into a foam. Otherwise, they have the exact same list of ingredients."
Blauvelt reported that just over 450 patients had been recruited at 53 US centers into the 8-week, double-blind, placebo-controlled trial.
For inclusion, patients had to have moderate seborrheic dermatitis, defined as an Investigator's Global Assessment (IGA) score of three or more. Blauvelt noted that patients as young as 9 years old could be recruited and there was no upper age limit. The average age of participating patients, however, was around 42 years.
Multiple Improvements Seen in "Happy Trial"
The primary endpoint was an IGA score of 0 or 1 with a at least a 2-grade improvement (IGA success) after 8 weeks of treatment. This was achieved by 80% of patients who were treated with roflumilast 0.3% foam compared with 60% of those who were treated with the vehicle (P less than .0001).
Blauvelt pointed out that significant improvements had also been seen after 2 weeks (about 42% vs about 26%; P = .0003) and 4 weeks (about 72% vs about 49%; P less than .0001) of treatment.
"Now if we raise the bar a little higher" and ask how many patients were completely clear of their seborrheic dermatitis, Blauvelt said, it was 50% at 8 weeks, more than a third at 4 weeks, and over 15% at 2 weeks with the foam, and significantly lower at just under 30%, 15%, and 7% in the vehicle group.
A 4-point or more improvement in the Worst Itch Numeric Rating Scale (WI-NRS) — accepted as the minimally clinically important difference — was achieved by more than 60% of patients treated with the foam at week 8, just under 50% at week 4, and just over 30% at week 2. Corresponding rates in the vehicle group were around 40%, 30%, and 15%.
"Many patients responded in this trial. So much so that when I was doing it, I called it the 'happy trial.' Every time I saw patients in this trial, they seemed to be happy," Blauvelt said anecdotally.
"In terms of adverse events, the drug turned out to be very safe, and there didn't seem to be any issues with any things that we see with, for example, oral phosphodiesterase inhibitors," he added.
The tolerability findings suggest that the foam vehicle "was an excellent vehicle to be used for this particular drug," with no signs of skin irritation, as rated by patients or investigators.
Lesson for Practice: Advise Patients to Moisturize?
"It seems like the vehicle would be a good skincare product for patients," observed the session's cochair, Jo Lambert, MD, PhD, professor and academic head of the Department of Dermatology at Ghent University Hospital in Belgium.
It was "a pretty dramatic vehicle response, right?" Blauvelt responded. "We normally don't think of telling seborrheic dermatitis patients to moisturize," he added.
"I think one of the interesting findings is perhaps we should be telling them to moisturize their scalp or moisturize their face, or it could be something unique to this particular foam."
The study was funded by Arcutis Biotherapeutics. Blauvelt disclosed that he was an investigator for the trial and acted as consultant to the company, receiving grants/research funding and/or honoraria. Several of the study's coinvestigators are employees of Arcutis. Lambert was not involved in the study and cochaired the late-breaking session during which the STRATUM trial findings were reported.
European Academy of Dermatology and Venereology (EADV) 2022 Annual Meeting: Late-breaking Oral Presentation P0762. Presented September 7, 2022.
Sara Freeman is a freelance journalist based in London, England.
Source: Read Full Article