At the start of last year, 34-year-old Brett Farago wouldn't have considered himself a devoted runner.
Farago, a father from Sydney's Bondi, had been casually running for a couple of years, doing the odd three-kilometre jog, but a switch flicked when lockdown hit in March 2020.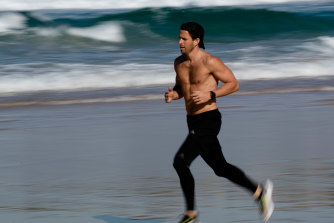 Brett Farago became a keen runner during the pandemic, even completing 100 half-marathons in 100 days.Credit:Janie Barrett
"I started pushing myself, upping the ante to do 5-10 kilometre runs every day," he says. "Then I started getting into marathons."
His new enthusiasm for long distance running eventually led him to challenge himself in April this year to complete 100 half marathons in 100 days, with a fundraiser for Dementia Australia in honour of his mother, who has the disease.
Farago, who works in games retail, says running has helped him maintain a good mental headspace while dealing with difficulties brought on by the pandemic. Having completed his 100-day challenge, he now runs about four times a week around Bondi Beach or Centennial Park, usually clocking up between 10 and 25 kilometres.
"I was not an endurance runner before lockdown last year, but lockdown has pushed me into this running zone," he says. "[It] leaves me feeling content and ready to tackle the day ahead and I can't imagine living without it."
Farago is one of many Australians who have overhauled their exercise regimen in lockdown and found joy in being able to move around their neighbourhoods by running, walking or cycling.
And while many people have been itching to return to the gym, for others, the changes introduced to their workout routines in lockdown may mark a permanent shift.
Data obtained from popular fitness app Strava, which is mainly used for running and cycling, shows there was a dramatic increase in outdoor activities being recorded in April 2020, shortly after the nation's first lockdowns came into place. Across Australia, the number of users uploading tripled.
And while the spikes have been less pronounced with subsequent lockdowns in Victoria and New South Wales, the amount of activity being recorded remains much higher than pre-pandemic, indicating people have been sticking to their outdoor exercise routines introduced during lockdown.
You need only wander through our parks to see the trend. Parks Victoria have had an estimated 35.8 million visitors to Melbourne parks during the pandemic, marking a rise of more than 20 per cent since 2018-19.
A Greater Sydney Parklands spokesperson says Centennial Park has had similar increases, with the park now bustling at all times of day with walkers, runners and cyclists, while internal roads are being closed on weekends to create more space.
Tim Entwisle, chief executive of Royal Botanic Gardens Victoria, says the number of visitors to the city and Cranbourne sites during lockdown was higher than expected.
"I've definitely noticed more people braving the elements, coming out when it's raining or cold, when a normal day they would stay at home," he says.
"People have found new ways to exercise, and even realise that a good brisk walk is useful, whereas in the past it might have been seen as second-rate."
"Lockdown has pushed me into this running zone … I can't imagine living without it."
As the fifth lockdown ends in Victoria, Entwisle hopes people "remember their parks", adding his team will be exploring how to place more emphasis on attending the gardens for physical activity.
It's likely that, after exploring alternatives during COVID-19, some former gym-goers won't go back. A RunRepeat survey, conducted in March 2021, found that of about 11,000 gym members globally, a quarter don't intend on returning to their gym.
Of course, not all these people have taken up outdoor exercise. Some will have enjoyed the convenience of virtual exercise classes and fitness apps. US research by McKinsey and Company found that 70 per cent of people who have been working out online plan to continue.
Barrie Elvish, chief executive of industry body Fitness Australia, isn't concerned. He welcomes seeing more people get outside for their physical activity, adding there are some who would not have been exercising pre-pandemic.
Elvish believes that the changes triggered by COVID-19 will translate to more people signing on with a fitness trainer or studio.
During last year's lockdowns, Elvish says Australian gyms reported losing about five per cent of members, but aside from the businesses in CBD areas where the workforce hadn't returned, most clawed back with fresh members.
"At the end of the day you will have a fitter and more active Australian community," he says.
"Some people who run, cycle, swim or walk will be happy just doing that, but others will graduate to other exercise modalities … Most people look to extend the personal challenge and might join a boot camp with a personal trainer, or go to a gym."
Make the most of your health, relationships, fitness and nutrition with our Live Well newsletter. Get it in your inbox every Monday.
Most Viewed in Lifestyle
From our partners
Source: Read Full Article