Black and Hispanic adults are diagnosed with hypertension at a significantly younger age than are white adults, and they also are more likely than Whites to be unaware of undiagnosed high blood pressure, based on national survey data collected from 2011 to 2020.
"Earlier hypertension onset in Black and Hispanic adults may contribute to racial and ethnic CVD disparities," Xiaoning Huang, PhD, and associates wrote in JAMA Cardiology, also noting that "lower hypertension awareness among racial and ethnic minoritized groups suggests potential for underestimating differences in age at onset."
Overall mean age at diagnosis was 46 years for the overall study sample of 9,627 participants in the National Health and Nutrition Examination Surveys over the 10 years covered in the analysis. Black adults, with a median age of 42 years, and Hispanic adults (median, 43 years) were significantly younger at diagnosis than White adults, who had a median age of 47 years, the investigators reported.
"Earlier age at hypertension onset may mean greater cumulative exposure to high blood pressure across the life course, which is associated with increased risk of [cardiovascular disease] and may contribute to racial disparities in hypertension-related outcomes," said Dr. Huang and associates at Northwestern University, Chicago.
The increased cumulative exposure can be seen when age at diagnosis is stratified "across the life course." Black/Hispanic adults were significantly more likely than White/Asian adults to be diagnosed at or before 30 years of age, and that difference continued to at least age 50 years, the investigators said.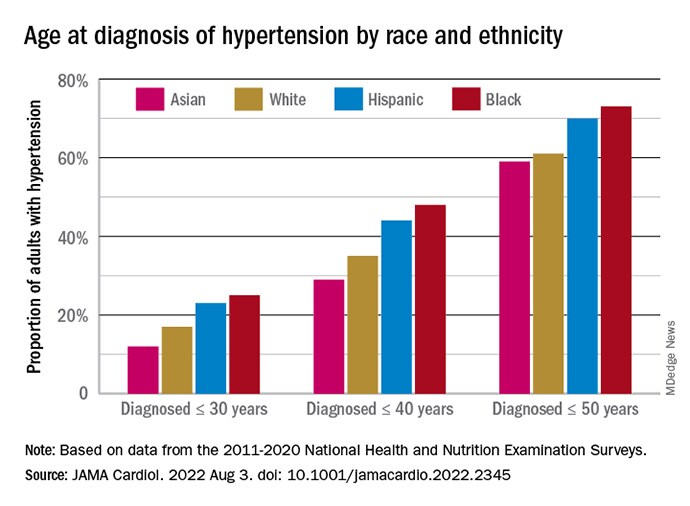 Many Adults Unaware of Their Hypertension
There was a somewhat different trend among those in the study population who reported BP at or above 140/90 mm Hg but did not report a hypertension diagnosis. Black, Hispanic, and Asian adults all were significantly more likely than White adults to be unaware of their hypertension, the survey data showed.
Overall, 18% of those who did not report a hypertension diagnosis had a BP of 140/90 mm Hg or higher and 38% had a BP of 130/80 mm Hg or more. Broken down by race and ethnicity, 16% and 36% of Whites reporting no hypertension had BPs of 140/90 and 130/80 mm Hg, respectively; those proportions were 21% and 42% for Hispanics, 24% and 44% for Asians, and 28% and 51% for Blacks, with all of the differences between Whites and the others significant, the research team reported.
One investigator is an associate editor for JAMA Cardiology and reported receiving grants from the American Heart Association and the National Institutes of Health during the conduct of the study. None of the other investigators reported any conflicts.
This article originally appeared on MDedge.com, part of the Medscape Professional Network.
Source: Read Full Article