SAN FRANCISCO — An investigative treatment for dry eye with a novel mechanism of action that targets underlying neurotrophic and neurosensory aspects of the disease rather than T-cell mediated inflammation reduced symptoms of the condition in a subset of patients with a high frequency of symptom reports.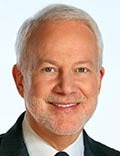 Dr Jay Pepose
Jay Pepose, MD, PhD, medical director of the Pepose Vision Institute in St Louis, Missouri, reported 12-week results from the MIM-728 phase 3 trial of tavilermide (posted PO117) at the 2023 annual meeting of the American Academy of Ophthalmology on November 3, 2023. The trial found that twice-daily treatment with 5% tavilermide improved total corneal fluorescein staining (tCFS), a key endpoint in evaluating dry eye disease (DED) vs placebo by a least-squares mean difference (LS mean) of -0.6 (P = .0192) in the entire cohort as well as in patients with what he called "persistent disease."
"That's a paradigm shift in thinking in terms of stratifying patients by frequency of symptoms as an inclusion requirement in a dry eye clinical trial," Pepose told Medscape Medical News. "The importance of symptom frequency was what we gleaned from the trial. That was a novel metric for us supporting a discriminating approach for symptomatic responsiveness to treatment."
Pepose described tavilermide as a proteolytically stable synthetic neurotrophin mimetic of nerve growth factor, an essential trophic factor for the health and maintenance of neuronal cells and the growth and migration of epithelial cells via its binding to the high affinity TrkA receptor. The mechanism of action also facilitates secretion of mucin from conjunctival goblet cells. Most existing therapies for dry eye primarily target the T-cell mediated inflammatory process, Pepose said.
The MIM-728 trial enrolled 607 patients with DED, of whom, 257 were randomly assigned to receive 5% tavilermide, 97 to 1% of the drug, and 253 to placebo.
In a subgroup of patients with a higher baseline frequency of dry eye symptoms, improvement in symptoms was greater with 5% tavilermide relative to the placebo group as early as 2 weeks, with benefit maintained throughout the study, according to the researchers.
The initial assessment across the entire cohort did not detect a statistically significant difference in improvement in the eye dryness score with tavilermide vs placebo, Pepose said. A statistically significant difference emerged only when the patients with higher baseline symptom frequency scores were separated out from the remainder of the cohort, he said.
Pepose also noted that the trial found statistically significant improvement in symptoms of photophobia (light sensitivity), blurred vision, pain, grittiness, and discomfort as well as in tCFS in the high "persistent"–frequency patients. "This gives us even more confidence in the fidelity of this kind of study," he said.
Results of the MIM-728 trial have informed the design of the next ongoing phase 3 trial focusing on tavilermide 5%, Pepose said.
Pepose is a consultant and stockholder in Mimetogen Pharmaceuticals, developer of the drug. He also disclosed relationships with Allysta, Bausch + Lomb, Johnson & Johnson Vision, Kala Pharmaceuticals, OKYO Pharma, Stuart Therapeutics, Sn Pharma, Telios Pharma, and Thea Pharma.
Richard Mark Kirkner is a medical journalist based in the Philadelphia area.
Source: Read Full Article