More than three quarters of patients with chronic limb-threatening ischemia (CLTI) and no revascularization options were able to avoid above-the-ankle amputation through a new technique called transcatheter arterialization of deep veins (TADV), a multicenter study shows.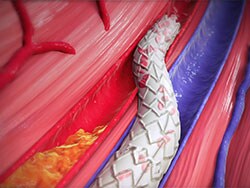 TADV is a percutaneous approach that creates an artery-to-vein connection to deliver oxygenated blood via the venous system to an ischemic foot. It can be used to treat the approximately 20% of patients with CLTI, the most serious form of peripheral artery disease (PAD), who have no revascularization options.
For this study, the investigators used the LimFlow system, which has not yet been cleared by the US Food and Drug Administration. At 6 months, 66% of patients experienced amputation-free survival and limb salvage was achieved in 76%.
"I'm so excited about this technology for our patients," Anahita Dua, MD, of Massachusetts General Hospital and Harvard Medical School in Boston told theheart.org | Medscape Cardiology. "We finally have something to offer them."
For TADV to be successful, she said, "it must be accompanied by three additional optimized elements: (1) vascular medical management — eg, diabetic control, antiplatelet therapy, statins; (2) appropriate wound care, including offloading and a vascular lab to monitor flow to the foot over time; and (3) a caring doctor who appropriately manages patient expectations and provides a clear layout" of what will happen after surgery.
"This will require a mindset that TADV is not a 'procedure,' but rather a multidisciplinary 'program' that has multiple limb-salvage practitioners" in various disciplines, she said. "Centers that wish to offer TADV will need to invest and support the program and its players as a whole."
The study was published online March 30 in the New England Journal of Medicine. The findings were also presented at the recent VIVA (Vascular InterVentional Advances) meeting in Las Vegas.
Perfusing Through Veins
For this study, Dua and colleagues enrolled 105 CLTI patients at 20 sites across the United States. The median age was 70 years; 31% were women, and 43% were Black, Hispanic, or Latino. Nineteen patients (18%) with dialysis-dependent chronic kidney disease who had either a stable arteriovenous fistula or were receiving peritoneal dialysis were included.
The composite primary endpoint was amputation-free survival — freedom from above-ankle amputation or death from any cause — at 6 months, as compared with a performance goal of 54%. Secondary endpoints were limb salvage, wound healing, and technical success.
Using the LimFlow system, the investigators connected arterial flow in the leg to the downstream deep-venous segments instead of to an arterial target. This reverses the blood flow in the veins and perfuses the distal limb through the venous rather than the arterial system.
To accomplish this, the practitioner advances one catheter in the artery from the groin to the knee, and another in the vein from the foot to the knee. The artery and vein are then mechanically connected behind the knee.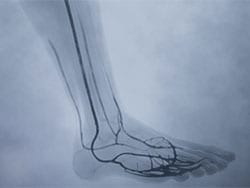 The posterior tibial artery was the most common site for the arteriovenous crossing (75.2%), followed by the peroneal artery (19%) and the tibioperoneal trunk (5.7%).
TADV was technically successfully in 104 patients (99%), with no unanticipated adverse device events.
At 6 months, 66% of the patients had amputation-free survival. Limb salvage was achieved in 76%. Wounds were completely healed in 25% and were in the process of healing in 51%.
Twenty-three patients underwent major amputation and 12 died. No unanticipated device-related adverse events were reported.
Results were consistent among subgroups, except that amputation-free survival occurred in a smaller proportion, and death in a greater proportion, of those with dialysis-dependent chronic kidney disease.
The study had several limitations, including lack of a control group; limited follow-up; TADV was performed by trained, experienced interventional cardiologists and vascular surgeons; and the procedure may be available only at a specialist center.
"No Such Thing as a 'No-Option' Patient"
"We finally have a study that objectively has shown outcomes that surpass any expected outcomes in these very, very, very difficult to treat patients, who pretty much would have been resigned to wound care treatment with narcotics and eventual amputation, which also increases their cardiovascular mortality," Prakash Krishnan, MD, director of endovascular interventions at The Mount Sinai Hospital's Cardiac Catheterization Laboratory in New York City, told theheart.org | Medscape Cardiology.
"This really shows that there is no such thing as a 'no-option' patient," he said. "If you have a team in your area who can perform these complex procedures and has a good multidisciplinary approach to wound care in these complex patients, you can achieve outcomes that are quite astonishing."
That said, a number of unanswered questions remain, he noted. "How do we follow these patients? What changes occur in wound? Does it take more time to provide nutrition to heal the wound when arterial blood is working on the venous side? Which artery do you do you choose to create the fistula between the artery and the vein?
"The investigators mostly chose the posterior tibial artery, but they chose it high up in the leg," he noted. "Does that increase flow rates and problems? Maybe there's an option for a lower fistula. The protocols will need to be refined as we go forward."
However, he added, "these questions don't dampen my enthusiasm for the paper and the approach. In fact, Mount Sinai will have the LimFlow system in place in the next couple of weeks."
In a related editorial, Douglas E. Drachman, MD, of Massachusetts General Hospital in Boston, like Krishnan, raised a number of as-yet unanswered questions with regard to TADV, and wondered whether the findings would be generalizable "under conditions more akin to the real world with regard to operators, patients, and health care system."
Nevertheless, he concluded, "Bringing arterial blood into venous vessels may be considered a unique version of gerrymandering by means of reclassifying the composition of circulation to the foot. We hope that this procedure…reduces the need for amputation in many patients who historically have had no other option."
The study was funded by LimFlow. Dua, Krishnan, and Drachman have disclosed no relevant financial relationships.
N Engl J Med. 2023;388:1171-1180, 1223-1224. Abstract, Editorial
Follow Marilynn Larkin on Twitter: @MarilynnL.
For more from theheart.org | Medscape Cardiology, follow us on Twitter and Facebook.
Source: Read Full Article