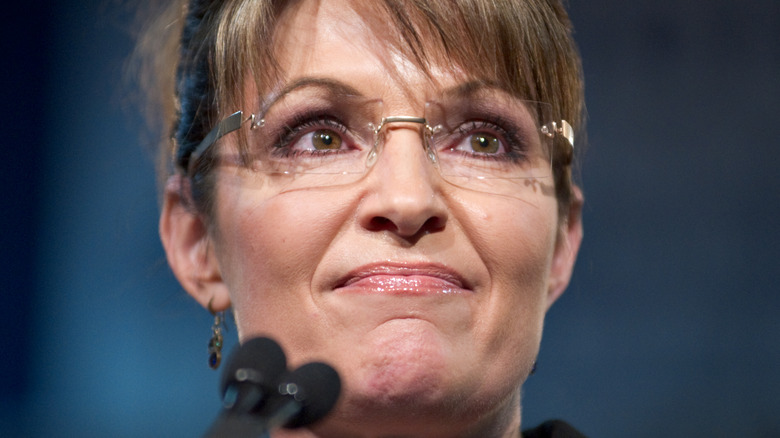 Christopher Halloran/Shutterstock
By Sam Ramsden/Sept. 7, 2021 12:56 pm EDT
Sarah Palin — the former governor of Alaska, political commentator, author, and reality TV star — shot to fame back in 2008 when the late John McCain selected her as his vice-presidential candidate (via The Sun). After she gained overnight notoriety around the world, the media soon turned their attention to Palin's family, including her daughter Bristol and ex-husband, Todd, whom Palin divorced in 2020. But what is there to know about Palin's youngest child, Trig? 
According to The Focus, Trig Paxson Van Palin was born on April 18, 2008, in Wasilla, Alaska. He was born with Down syndrome and is the youngest child of the Palin family, which includes siblings Track, Bristol, Willow, and Piper.
Palin kept her pregnancy with Trig a secret until the seventh month. Writing in her autobiography, "Going Rogue," Palin revealed that, the day she went into labor with her youngest child, she had given a speech in Dallas before getting a flight back home to Alaska, where she eventually gave birth 20 hours later. 
However, Palin's story was later called into question. 
Sarah Palin previously opened up about Trig's birth and diagnosis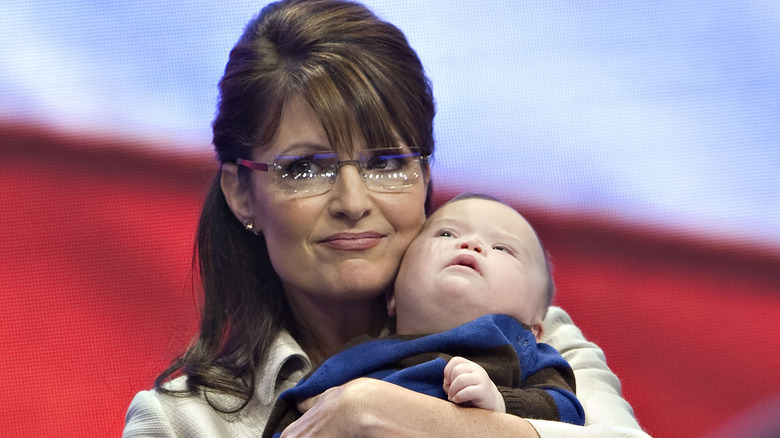 As Insider reported, observers began to notice holes in Sarah Palin's dramatic birth story, with some even accusing the politician of faking her pregnancy. However, Palin dismissed the theories as "nonsense" and largely ignored the speculation throughout the 2008 presidential campaign.
Per The Focus, Palin was interviewed by ABC News the year after Trig's birth and was asked whether she ever considered having an abortion when learning of his Down syndrome diagnosis. "I knew that the option was there," the former governor commented, adding that, although she understands why people go down that route, she believes that "every child has purpose — and that's what I held on to." In 2010, Trig appeared on the reality TV series "Sarah Palin's Alaska," which ran for one season until 2011 and centered on the Palin family's life in Alaska. 
In March 2021, Palin confirmed in a statement to People that she and some of her children, including 12-year-old Trig, had contracted COVID-19. In the statement, Palin revealed that, after testing positive, she immediately went into isolation. "I then observed symptoms in my son Trig, who curiously is the most enthusiastic mask-wearer, and after our numerous negative tests over the year, he tested positive," she said. "Children with special needs are vulnerable to COVID ramifications, so with a high fever he was prescribed azithromycin, which really seemed to help, and I increased amounts of vitamins I put in his puréed food."
Luckily, Trig and the rest of the Palin family seem to have recovered from the virus just fine.
Source: Read Full Article