A new study published by Health Affairs shows that Medicare support of clinical training for nurse practitioners would increase the pipeline to address the national shortage of primary care clinicians.
The study, by researchers at the Center for Health Outcomes and Policy Research and the University of Pennsylvania's nursing school, hospital, and health economics center, shows that universities participating in the $200 million Graduate Nurse Education (GNE) Demonstration significantly increased the number of primary care NPs they enrolled and graduated.
The ability to increase the supply of nurse practitioners is limited by a shortage of clinical preceptors, according to the study. The GNE Demonstration, launched under the Affordable Care Act of 2010, provided selected hospitals with Medicare funding to help offset costs associated with clinical training of NPs, the study explained.
The GNE funds were used to support preceptors mostly practicing in community-based settings in underserved areas, the new report stated.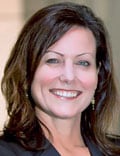 April Kapu, DNP, APRN, president of AANP
"Nurse practitioners are expanding access to high-quality primary care nationwide amidst increasing provider shortages, historic burnout, and a global pandemic," April N. Kapu, DNP, APRN, president of the American Association of Nurse Practitioners, told Medscape Medical News. "This study shows that by working together with health systems and the federal government, we can grow the supply of NPs to meet the critical demand for care in our communities."
The study used data from the American Association of Colleges of Nursing from academic years 2005-06 to 2017-18 to determine whether the demonstration was associated with increased nurse practitioner enrollment and graduation growth. "Findings suggest that modernizing Medicare payments for nursing education to support nurse practitioner clinical training costs is a promising option for increasing primary care providers," the authors, led by Joshua Porat-Dahlerbruch, PhD, RN, write.
In a press release from the University of Pennsylvania School of Nursing, study co-author Linda Aiken, PhD, RN, stated "One in four Americans, or over 80 million people, lack a primary care provider. Nurse practitioners with advanced clinical training in primary care help the public obtain health care when they need it. There are plenty of qualified applicants to university NP programs but admissions are limited because we don't have enough primary care clinicians to supervise student learners in their practices."
The Medicare-funded hospitals were: the Hospital of the University of Pennsylvania; Duke University Hospital in Durham, North Carolina; Rush University Hospital in Chicago, Illinois; Scottsdale Healthcare Medical Center in Scottsdale, Arizona; and Memorial Hermann-Texas Medical Center in Houston.
The hospitals created partnerships with university NP educational programs. The largest of the funded sites was the Hospital of the University of Pennsylvania (HUP), which served as a regional hub for a network of nine universities with NP graduate programs, multiple hospitals and health systems, and many community-based primary care practices.
"Working together in Philadelphia across health systems, public clinics, private medical practices, and schools of nursing, we were able to recruit a larger number of practicing physicians and nurse practitioners to mentor NP students to help them meet their clinical training requirements of 500 or more hours thus enabling nursing schools to accept more student NPs," co-author Regina Cunningham, PhD, RN, chief executive officer of HUP, said.
"The cost of clinical training for one nurse practitioner in the GNE Demonstration was about $47,000 compared to the cost of clinical training for a primary care physician of over $157,000," added Porat-Dahlerbruch.
Funding for the study was from the Centers for Medicare & Medicaid Services, the National Institute of Nursing Research, and the US-Israel Fulbright Postdoctoral Scholars Program. The authors have disclosed no relevant financial relationships.
Health Aff. Published online January 4, 2022. Abstract
For more news, follow Medscape on Facebook, Twitter, Instagram, YouTube, and LinkedIn
Source: Read Full Article