Jonathan Hersch, MD, a South Florida–based orthopedic surgeon, had heard about pickleball, but it wasn't until about a year ago that he got curious enough to watch it on nearby courts. It looked fun, so he bought some paddles, invited his son along, and showed up at the park to try it. A former tennis player sidelined by injury, Hersch found pickleball to be easier on the body, easier to schedule, and easier to learn. Soon he was hooked on the sport.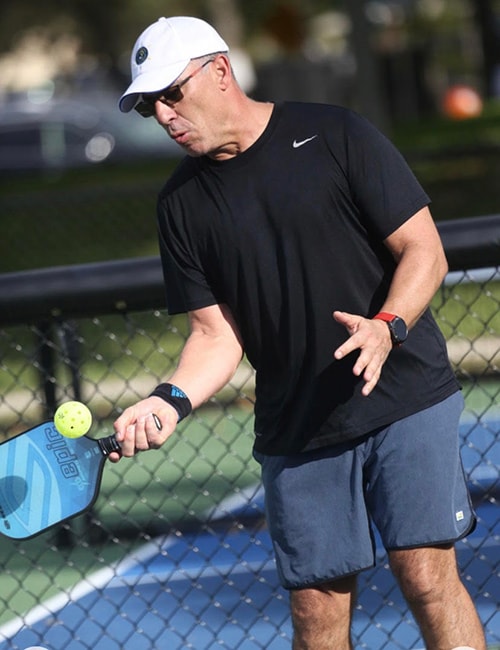 Dr Jonathan Hersch
Pickleball has been around for decades, but it has exploded in the past 5 to 10 years — so much so that it now claims 4.8 million players in the United States, according to the 2022 Sports and Fitness Industry Association's Single Sport Report on Pickleball. From 2020 to 2021, the sport experienced 14.8% growth, and that's after a 21.3% growth rate the year before.
Still, when it comes to doctors and outdoor activity, golf usually comes to mind. From Dr Beeper in the 1980 movie Caddyshack to Golf Digest's former annual list of the top golfer doctors in America, the idea that golf is the go-to activity for doctors has hung on for years. The theory was that golf was the place to network.
These days, many doctors still play golf, but that segment of the population is getting older. With tighter schedules, getting away for a half day of golf isn't possible for many doctors. There's also an increased focus on exercise for overall health, and golf doesn't deliver the workout that many younger doctors prefer. Additionally, many physicians find they can network better with activities other than golf.
In a recent Medscape poll, physicians named as their favorite sports walking (36%), biking (23%), lifting weights (20%), exercising at a gym (18%), golf (18%), running (17%), swimming (16%), yoga (9%), pickleball (7%), and other (24%). (Respondents could choose more than one.)
Pickleball is increasingly finding its way into physician circles for many of the reasons that golf once did — and then some. It's a sport that has widespread appeal. Players range from the very young to the very old, making it a great activity for multigenerational families. "I've played against 90-year-olds and 12-year-olds with their parents," says 53-year-old Hersch. "In tennis, if I played a 70-year-old, I'd probably wear them down over time, but that's not the case with pickleball."
For doctors, part of pickleball's appeal is that it requires little to no scheduling in advance, it requires a short-time commitment, it provides a good workout, and, perhaps equally as important, it offers prime opportunities to socialize, network, and market oneself. While golf has traditionally been physicians' activity of choice for these opportunities, pickleball is edging its way into favor for a growing number of doctors.
A recent Medscape survey revealed that 21% of respondents think fewer physicians are playing golf today than 10 years ago. And while 4% of respondents still pegged golf as their favorite sport, 2% reported pickleball as their number one. (Top favorites were running and walking.) If you're still swinging clubs, it's never been easier to pick up a pickleball racquet and head for the courts.
Still, other sports ranked higher than either golf or pickleball. Running, biking, yoga, and others ranked higher than pickleball as physicians' sport of choice.
Lots to Love About Pickleball
Like Hersch, Urian Kim, MD, a Jacksonville-based pediatrician, is a recent convert to pickleball who "fell in love" with the game. "I found pickleball through volleyball," he says. "A teammate mentioned playing it, and I decided to give it a try."
Kim found the sport to be fun, social, and welcoming. The 48-year-old also found it convenient for his busy schedule. "I played golf in my younger days," he says. "It can be good for networking, but it's also going to take up half your day. With pickleball, you can play in the early morning, be finished quickly, and get on to work. It's just more practical."
A typical game of pickleball runs from 15 to 25 minutes, making it convenient for busy doctors. Players can choose to play singles or doubles, and equipment is simple: a paddle and a ball are all that's necessary, along with comfortable clothing for an indoor or outdoor court.
Courts can be found in all 50 states, many of them both free and accessible in local parks. As of 2021, there were over 9500 places to play across the country. The cost of entry is low; a beginner paddle and a couple of balls typically run around $40, although more competitive players seek out more costly graphite models.
The sport is also popular for its quick learning curve. "You can learn to play very quickly at any level," says Laura Gainor, director of media relations for USA Pickleball. "You can even set up a portable net in your driveway and play a game whenever it's convenient."
No matter the level, both Hersch and Kim praise the sport for its health benefits, as well. "We often measure our calories burned, and it's much higher than what you get from golf," says Hersch.
Kim concurs. "You get a great workout in a short amount of time," he says. "It gives you both cardio and agility benefits, and your heart rate is going to rise much higher than driving around in a golf cart with a little walking thrown in."
Pickleball offers mental health benefits, too. Additionally, the social aspect provides positive interactions with others, crucial after 2 years of pandemic isolation. "I saw an uptick in pediatric mental health conditions throughout the pandemic," says Kim. "We're social beings, and a sport like pickleball provides an avenue for human interactions that are desperately needed right now."
Whether at a public venue or simply playing with friends, the sport lends itself to socializing and networking. "I'm going to a pickleball social event next week with my office staff," says Hersch. "It's a game anyone can play."
Kim has introduced a number of doctor and nurse colleagues to the game. "I've asked around at the hospital and found several staff members who want to try it," he says. "I've also run into patients and their parents playing it on local courts."
Networking Equals Marketing
As an orthopedic surgeon, Hersch has also discovered that pickleball courts serve as good marketing. "Pickleball isn't a dangerous sport, but it does involve a lot of twisting, turning, and changing directions, and sometimes players become patients," he says. "I've seen my share of patients who present with ankle sprains, ruptures, and strains. Some require surgery and some don't."
Although Kim is a pediatrician, he often fields questions from the adults he plays with on the courts. "I often get questions about aches and pains or what specialist to see for different conditions," he says. "I've been there when injuries have happened, too, and share names and numbers on who to see."
For those doctors who find themselves going deeper down the rabbit hole of the sport, there are leagues of varying levels and well-organized tournaments all over the country. USA Pickleball has established rules, player rankings, and sanctioned events, all the way up to an annual national championship tournament. "Right now, I'm playing pick-up games," says Kim, "but eventually I'd like to get involved in more competitive play."
Hersch is friendly with a neurologist who has risen to the top of the senior ranks in the sport. "He travels every weekend for tournaments," Hersch says. "He probably plays more now than he practices medicine."
The benefits of pickleball for doctors are clear, and as the sport continues to grow in popularity, there's no question physician participation will continue to grow as well. "I don't play much golf these days," says Hersch, "but I'm playing pickleball several times a week. It delivers a good payback for the time you spend playing it."
For more news, follow Medscape on Facebook, Twitter, Instagram, and YouTube.
Source: Read Full Article