Tom Bodycomb and Tamsin O'Neill had long thought about launching a magazine dedicated to hiking but the timing never seemed quite right. Then along came Melbourne's protracted COVID-19 shutdown last year, and the long months of people trudging the streets within their five-kilometre radius, and suddenly the idea had legs. Walkers Journal was born.
"This is definitely a COVID baby," says O'Neill, editor of the much-loved Green magazine (dedicated to sustainable architecture and house design) and the cycling-focused Treadlie website.
Tom Bodycomb and Tamsin O'Neill in Elsternwick Nature Reserve.Credit:Simon Schluter
"It was phenomenal how many people were out walking," says Bodycomb, O'Neill's husband and publisher. "I think they were mostly doing the same walk every day, but I hope this will inspire them to do something a bit more interesting."
If the COVID-19 shutdown forced people to wander round and round, up and down, through the streets of their town, travel restrictions are likely to keep them constrained to their own country, and maybe New Zealand, for at least a while yet. And that's where the pair hope Walkers Journal – the first issue of which was released in March – will come into its own.
A small-format (A5) quarterly featuring six walks per issue and pretty much nothing else, it covers multi-day hikes, day trips and urban walks around the country (there is a website too, of course).
Small enough to slip easily into a daypack or backpack, Walkers Journal is intended as inspiration as much as a guide. "We hope people will collect it with a mind to one day doing the walks," says O'Neill. "We're not expecting people will rush out and do them."
The first issue of the Walkers Journal.
The pair don't think of themselves as "hardcore" hikers, though they've included plenty of walks in Green since its 2007 launch. So what are their top tips for an enjoyable walk?
"Good shoes, obviously, well worn-in," says O'Neill.
"Good company," says Bodycomb. "It can really make a walk if you're with someone who's a good raconteur, or really knows the area where you're walking."
"Never rule out a swim if that's possible," adds O'Neill. "Have your bathers with you; I often wear mine."
"Or just skinny dip if there's no one there," offers Bodycomb. "Though in my experience every time you do that, someone suddenly appears out of nowhere."
Carrying water is essential, and food too if the walk is long enough. And the company of a raconteur notwithstanding, making time to savour the silence is a must.
"You don't need to have a podcast on when you're walking," Bodycomb says. "Just listen to the stillness. You'll hear the birds, and if you can drift off on your own for a while you can almost picture what it was like pre-colonisation."
It seems similarly old-timey to have launched a magazine devoted to the least high-tech pursuit imaginable in the age of Insta-everything, but O'Neill is confident people will share their enthusiasm.
"If there's ever a time to bring out a magazine on walking, this is it," she says. "If it doesn't work now, it's never going to work."
For more information, visit walkersjournal.com.au.
The Walkers Journal guide to day hikes in or near Melbourne
Bushrangers Bay (near Cape Schanck, Mornington Peninsula)
A spectacular walk through banksia grove and on down basalt cliffs to shimmering swimming holes
Merri Creek Trail
A slice of tranquility in the middle of the northern suburbs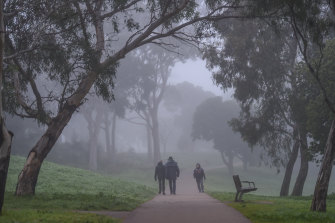 The Merri Creek trail on a winter morningCredit:Justin McManus
Botanic Gardens and on through the CBD
Even better when it's raining and the gardens are peaceful and empty, with a well-earned dinner at the end
Anglesea Heath
In spring catch the wildflowers blooming amongst the low wind-sculpted scrub
Elsternwick Nature Reserve
A dawn or dusk stroll is best for observing bird activity
And in or near Sydney
Manly to Middle Harbour
Through eucalypt gullies to secret harbour pools
Rose Bay to Nielsen park
The 1.4-kilometre long Hermitage Walk has sub-tropical sections and secluded coves
Tom Uren Walk, Balmain
A two-hour walk to discover the Balmain of the famous Labor figure
Royal National Park Wattamolla to Garie Beach
A scenic two-hour cliff walk with a swim as a reward at stunning Gari Beach at the end
Blue Mountains
Multiple walks with waterfalls and spectacular views
Most Viewed in Lifestyle
From our partners
Source: Read Full Article