MILAN, Italy — Safety considerations, particularly regarding the use of Janus kinase (JAK) inhibitors, are of utmost importance in the 2023 update to recommendations for managing psoriatic arthritis (PsA) by the European Alliance of Associations for Rheumatology (EULAR). Additionally, the selection of therapy should now take into account the complete clinical presentation, explicitly considering nonmusculoskeletal manifestations.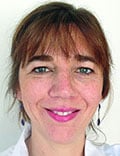 Dr Laure Gossec
Presenting the updated recommendations, Laure Gossec, MD, PhD, professor of Rheumatology at Pitié-Salpétriere Hospital and Sorbonne University, Paris, France, emphasized an increasingly manifestation-oriented approach, integrating a growing range of available drugs in a stepwise manner to optimize the balance between safety and efficacy and achieve the highest quality of care. These updates were developed over the past eight months, guided by a comprehensive review of drug efficacy based on 38 publications covering 18 drugs, as well as a safety review encompassing 24 publications.
Safety Considerations With JAK Inhibitors
Expanding on the existing six overarching principles from the 2019 recommendations, the PsA EULAR recommendations now introduce a seventh principle: "The choice of treatment should consider safety considerations regarding individual modes of action to optimize the benefit-risk profile."
This addition was prompted by recent safety data on JAK inhibitors, which revealed serious potential side effects, such as heart attacks, blood clots, cancer, and severe infections, that recently prompted the European Medicines Agency (EMA ) to restrict their use. As indicated by the new principle, safety considerations have been incorporated into several recommendations.
For instance, in the context of peripheral arthritis, JAK inhibitors may now be considered if there is an inadequate response to at least one conventional synthetic disease-modifying antirheumatic drug (csDMARD) such as methotrexate, sulfasalazine, or leflunomide, and at least one biologic DMARD (bDMARD).
Alternatively, JAK inhibitors may be utilized when bDMARDs are not suitable for other reasons. However, EULAR now emphasizes caution whenever JAK inhibitors are mentioned. Specifically, "careful consideration is necessary for patients aged 65 or above, current or past long-time smokers, individuals with a history of atherosclerotic cardiovascular disease or other cardiovascular risk factors, those with other malignancy risk factors, or individuals with a known risk for venous thromboembolism."
Consider Nonmusculoskeletal Manifestations in Treatment Decisions
In another significant update, EULAR now recommends that the choice of therapy should also consider non-musculoskeletal manifestations associated with PsA. "There is a notable shift in perspective here,"Gossec told Medscape Medical News. Clinically relevant skin involvement should prompt the use of IL-17A or IL-17A/F or IL-23 or IL-12/23 inhibitors, while uveitis should be treated with tumor necrosis factor (TNF) inhibitors.
In the case of inflammatory bowel disease, EULAR advises the use of anti-TNF agents, IL-12/23 or IL-23 inhibitors, or a JAK inhibitor. The recommended course of action within each treatment category is not ranked in order of preference, but EULAR emphasizes the importance of following EMA recommendations and considering safety.
Systemic Glucocorticoids Removed
Certain medications have been removed from the recommendations, reflecting the heightened focus on treatment safety. The use of systemic glucocorticoids as adjunctive therapy is no longer recommended. "We always had reservations about their use, and now we have eliminated them. We are aware that they are still utilized, with 30% of patients in Germany, for instance, receiving low doses of glucocorticoids. However, the long-term efficacy/safety balance of glucocorticoids is unfavorable in any disease, particularly in patients with psoriatic arthritis and multiple comorbidities," Gossec explained.
NSAIDs and local glucocorticoids are now limited to specific patient populations, namely those affected by oligoarthritis without poor prognostic factors, entheseal disease, or predominant axial disease. Their use should be short-term, generally no longer than 4 weeks. Polyarthritis or oligoarthritis with poor prognostic factors should instead be treated directly with csDMARDs.
No Specific Biologic Treatment Order Recommended for Peripheral Arthritis
Regarding patients with peripheral arthritis, recent efficacy data have led EULAR to refrain from recommending any specific order of preference for the use of bDMARDs, which encompass TNF inhibitors and drugs targeting the IL-17 and IL-12/23 pathways. "We lack the data to propose an order of preference in patients with peripheral arthritis. Different classes of molecules exhibit efficacy in joint inflammation, generally resulting in a 50% response rate and similar overall effects," said Gossec, referencing head-to-head trials between biologics that yielded very comparable results, such as the EXCEED trial or SPIRIT-H2H trial.
The updated recommendations now consider two IL-23p19 inhibitors, guselkumab (Tremfya) and risankizumab (Skyrizi), the JAK inhibitor upadacitinib (Rinvoq), and the very recently EMA-approved bimekizumab (Bimzelx), an IL-17A/F double inhibitor.
The recommendation for patients with mono- or oligoarthritis and poor prognostic factors now aligns with the previous recommendations for polyarthritis: A csDMARD should be initiated promptly, with a preference for methotrexate if significant skin involvement is present. New data suggest that methotrexate may be beneficial for enthesitis, achieving resolution in approximately 30% of patients. When considering treatment options, JAK inhibitors may also be taken into account, with safety considerations in mind.
In cases of clinically relevant axial disease and an inadequate response to NSAIDs, therapy with an IL-17A inhibitor, a TNF inhibitor, an IL-17A/F inhibitor, or a JAK inhibitor may be considered. This approach now aligns with the most recent axial spondyloarthritis recommendation from EULAR and the Assessment of SpondyloArthritis international Society (ASAS).
Which Disease Manifestation to Treat First?
During the discussion, chairwoman Uta Kiltz, MD, PhD, a rheumatologist at Rheumatism Center Ruhrgebiet, Herne, Germany, and clinical lecturer at Ruhr University Bochum, inquired about identifying the primary manifestation to guide the course of action.
"Psoriatic arthritis is highly heterogeneous, and determining the predominant manifestation is sometimes challenging," Gossec said. "However, we believe that a certain order of preference is necessary when making treatment decisions. Starting with peripheral arthritis, which can lead to structural damage, allows for treatment selection based on that aspect. If peripheral arthritis is not present, attention should be directed towards axial disease, ensuring the presence of actual inflammation rather than solely axial pain, as mechanical origin axial pain can occur due to the patient's age."
David Liew, MBBS, PhD, consultant rheumatologist and clinical pharmacologist at Austin Health in Melbourne, Australia, commented on the update to Medscape Medical News: "We are fortunate to have a wide range of targeted therapy options for psoriatic arthritis, and these guidelines reflect this abundance of choices. They emphasize the importance of selecting therapies based on specific disease manifestations and tailoring care to each patient's unique type of psoriatic arthritis. It's worth noting that some changes in these guidelines were influenced by regulatory changes following ORAL Surveillance. In an era of numerous options, we can afford to be selective at times."
Regarding safety concerns and JAK inhibitors, Liew added: "It is not surprising to see these guidelines impose certain restrictions on the use of JAK inhibitors, especially in psoriatic arthritis, where other therapies offer distinct advantages. Until high-quality evidence convincingly points away from a class effect, we can expect to see similar provisions in many more guidelines."
Many of the recommendations' authors report financial relationships with one or more pharmaceutical companies. These include AbbVie, Amgen, Biogen, Bristol-Myers Squibb, Boehringer Ingelheim, Celgene, Celltrion, Chugai, Galapagos, Gilead, GlaxoSmithKline, Janssen, Leo, Lilly, Medac, Merck, Merck Sharp & Dohme, Novartis, Pfizer, R-Pharma, Regeneron, Roche, Sandoz, Sanofi, Takeda, UCB, and Viatris.
EULAR funded the development of the recommendations.
European Alliance of Associations for Rheumatology (EULAR) 2023 Annual Meeting: No abstract available. Presented June 3, 2023.
For more news, follow Medscape on Facebook, Twitter, Instagram, YouTube, and LinkedIn
Source: Read Full Article