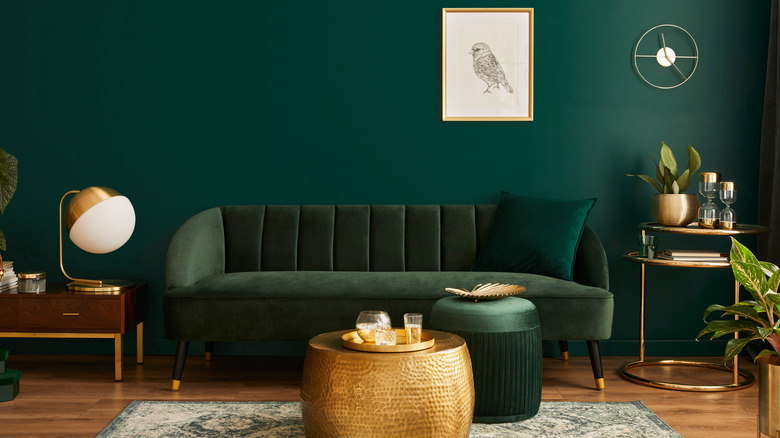 TikTokers love sharing all kinds of hacks: droves of users have lauded Ariana Grande's $40 Cloud Eau de Parfum as the perfect dupe for the $300 Maison Francis Kurkdjian Baccarat Rouge 540, while others can't get enough of just sharing the most incredible queer books you probably haven't heard of. There's a TikTok space for everyone, whether you're a cottagecore fanatic, coffee lover, or really into goats (yes, it's a thing, and it's called #goatsofTikTok — don't ask). While all that's well and great, who would've known that TikTok was the best-kept-secret for DIY interior designers?
After sifting through TikTok's best Amazon dupes and SHEIN hauls, you'll eventually find tons of DIY hacks for at-home projects. We're obsessed with one user's jaw-dropping renovation of her mom's bathroom, complete with peel-and-stick floor tiles and wall planks (bye-bye "ugly yellow"). Or another TikToker's super-modern home refresh, all by just painting her wooden doors black. While we're still not over another user's $12 home decor hack using motion-activated under-cabinet LED lights, there's one TikTok DIY category in particular that's getting all kinds of love lately. Yeah, we had no idea we could become so obsessed with wall paint until now.
As per PureWow, the platform can't get enough of sharing wall paint DIY's, and they are good. Modern, simple, and with just the right amount of je ne sais quoi, you'll want to go out and buy a bucket of paint STAT. Here are some of the best TikTok wall trends out there!
Wavy accents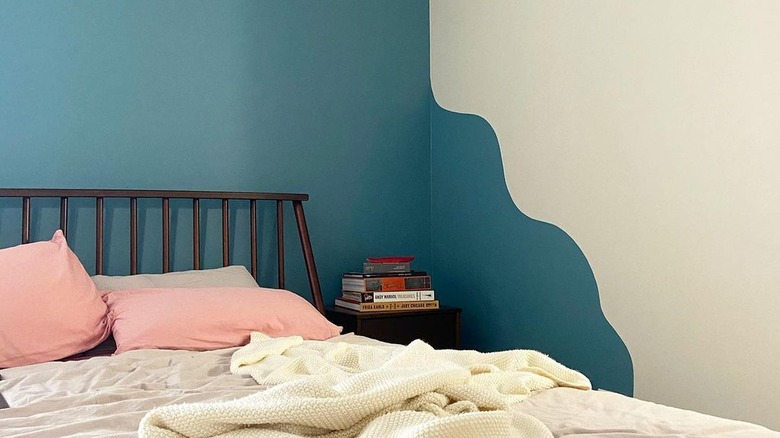 First off, we have the Insta-friendly wavy paint trend that's taking over social media. Minimalistic and a bit retro, this trend involves a contrasting wall with two kinds of paint: a neutral background shade, and an enveloping wave in a hue like bubblegum, sky blue, or lime. As per PureWow notes, "one contrasting color on a single wall can be jarring, but letting the shade spill over onto another wall (or floor or ceiling) lends a playful touch."
This DIY idea is easy, and can be done in a matter of an hour or less: simply outline your wave shape in pencil, buy one can of fun-colored paint, and get to filling it out. Use a thinner paintbrush for the outline, and fill in the rest with a larger brush or roller — easy as cherry-colored pie. We love this idea as a take on the '70s homeware trend, which has set Instagram ablaze as of recently. Murano glass mushroom lamps, that pink Ultrafragola mirror every influencer seems to have (via L'Officiel), and multicolored glass candlesticks are everything we want right now — and this wavy wall trend completes the look.
This trend is also perfect if you're looking for a change but don't want to commit to anything drastic. As paint brand Backdrop's co-president Natalie Ebel told PureWow, "accents and shapes are an easy way to update your space and add personality to a room without committing to having color on all four walls." We'll take it!
Wood slatted walls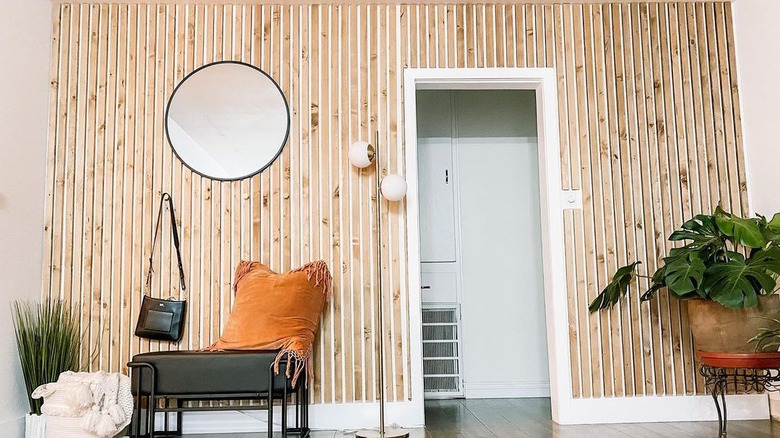 If you're okay with a hack that involves a bit more time and energy (and plenty of rewards) we present the incredible wooden slatted-wall trend. TikTokers agree: this hack is good, and although it should take you a day or two, it's a relatively-easy DIY that will transform your space. This step-by-step TikTok tutorial will make your life easier, explaining how to "spice" up any room with slats, starting with cutting the wood to the needed length. Once that's done, stain the wood to your desired hue, and measure out the space between each slat on your wall before you start. Then, simply nail the slats to your wall with a nail gun — it's that simple.
According to PureWow, this trend is "a chic way to add dimension to a room and works particularly well for dark, saturated colors." Think of adding all the drama to your bedroom with some black wood slats, or even as a warm, inviting detail to your home's entryway. Even if you're not into the idea of a dark room, one TikToker shows just how incredible light-hued planks look behind her airy, delicate bed. And your method is all up to you: while some people nail slats to the wall, you can try gluing them to the wall, too. That being said, measuring correctly is key so that everything looks ah-mazing, and not even close to haphazard. It's worth noting this hack is a bit more permanent than just paint, so tread carefully!
Arches and circles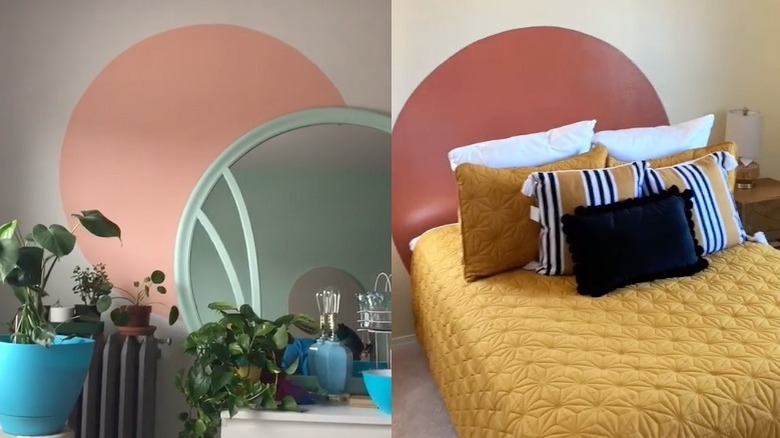 Last but certainly not least, we have arches and circles, which TikTokers are painting behind couches, beds, and dressers for a sunset effect that brightens any space. We're obsessed with this easy paint hack, which PureWow deems as one of home design's biggest trends "since the beginning of the year" with "no signs of stopping." While many of us would love a mid-century home that has built-in arches in every entryway, that's almost never the case. But not to fret — this hack will create the illusion of -60s style architecture at a fraction of the cost, and can be done in just around an hour.
As per PureWow, this is "a great way to frame a desk or shelf," and can even "take the place of a headboard." So where to start? Buy a can of paint that speaks to you, whether that's mimosa orange, coral pink, or a deep cobalt blue. Then, figure out where you want to paint your arch, half moon, or circle — behind a low dresser can look amazing, as well as behind your couch in place of artwork. Measure out the shape, tracing it in pencil before you begin. Or try this amazing hack: tape a piece of string in the middle of the wall, tie a pencil to the end, pull it taut, and simply draw out a perfect arch. Trace the outline in paint with a thin brush, and fill in the rest with a roller like this super-creative TikToker.
Source: Read Full Article