Older patients with knee osteoarthritis (OA) who underwent lengthy diet and exercise interventions reported less pain and maintained some weight loss years after the program ended, according to a new study published in Arthritis Care & Research.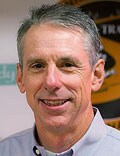 Dr Stephen Messier
"These data imply that clinicians who treat people with knee osteoarthritis have a variety of nonpharmacologic options that preserve clinically important effects 3.5 years after the treatments end," wrote lead author Stephen P. Messier, PhD, professor and director of the J.B. Snow Biomechanics Laboratory at Wake Forest University, Winston-Salem, N.C.
The study involved patients with overweight or obesity aged 55 years or older who were previously enrolled in the 1.5-year Intensive Diet and Exercise for Arthritis (IDEA) trial.
"You have to remember, this is 3.5 years after the IDEA trial ended," Messier said in an interview. "There was no contact with them for that entire time; you'd expect, based on the literature, that they'd revert back to where they were before they entered the trial. And certainly, there was some regression, there was some weight regain, but the important part of the study is that, even after 3.5 years, and even with some weight regain, there were some clinically important effects that lasted."
"What we feel now is that if we can somehow prepare people better for that time after they finish a weight loss intervention, from a psychological standpoint, it will make a real difference," he added. "We are very good at helping people have the confidence to lose weight. But having the confidence to lose weight is totally different than having confidence to maintain weight loss. If we can give folks an intervention that has a psychological component, hopefully we can increase their confidence to maintain the weight loss that they attained."
Study Details
Of the 184 participants who were contacted for a follow-up visit, 94 consented to participate, 67% of whom were females and 88% of whom were White. A total of 27 participants had completed the diet and exercise intervention, and another 35 completed the diet-only and 32 exercise-only interventions.
In the 3.5-year period between the IDEA trial's end and follow-up, body weight increased by 5.9 kg in the diet and exercise group (P < .0001) and by 3.1 kg in the diet-only group (P = .0006) but decreased in the exercise-only group by 1.0 kg (P = .25). However, from baseline to 5-year follow-up, all groups saw a reduction in body weight. Mean weight loss was –3.7 kg for the diet and exercise group (P = .0007), –5.8 kg for the diet group (P < .0001), and –2.9 kg for the exercise group (P = .003). Body mass index also decreased in all groups: by –1.2 kg/m2 in the diet and exercise group (P = .001), by –2.0 kg/m2 in the diet group (P < .0001), and by –1.0 kg/m2 in the exercise group (P = .004).
Pain – as measured by the Western Ontario and McMaster Universities Arthritis Index (WOMAC) score – was reduced in all groups across 5-year follow-up: –1.2 (P = .03) for the diet and exercise group, –1.5 (P = .001) for the diet-only group, and –1.6 (P = .0008) for the exercise-only group. WOMAC function also significantly improved relative to baseline by 6.2 (P = .0001) in the diet and exercise group, by 6.1 (P < .0001) in the diet group, and by 3.7 (P = .01) in the exercise-only group.
Finding Time to Advise on Weight Loss, Exercise
"If exercise and weight loss were easy, this country wouldn't be in the state we're in," Tuhina Neogi, MD, PhD, of Boston University said in an interview. "Shared decision-making and personalized medicine are important; unfortunately, for the majority of physicians – particularly primary care physicians, where a good deal of OA management is undertaken – they don't have a lot of time in their 20 minutes with a patient who has OA to counsel individuals toward a healthy weight and physical activity program when they're also addressing common comorbidities seen in OA such as diabetes and heart disease.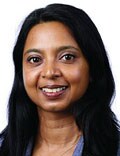 Dr Tuhina Neogi
"But as we know," she added, "when you do address weight loss and physical activity, it has wide-ranging health benefits. This study provides support for utilizing formal diet and exercise programs to achieve important and durable benefits for people with OA."
Neogi did note one of the study's acknowledged limitations: Only slightly more than half of the contacted participants returned for follow-up. Though the authors stated that the individuals who returned were representative of both the pool of potential participants and the IDEA cohort as a whole, "we don't want to make too many inferences when you don't have the whole study population available," she said. "The people who have agreed to come back 3.5 years later for follow-up testing, maybe they are a little more health conscious, more resilient. Those people might be systematically different than the people who [did not return], even though most of the factors were not statistically different between the groups.
"Whatever positive attributes they may have, though, we need to understand more about them," she added. "We need to know how they maintained the benefits they had 3.5 years prior. That kind of understanding is important to inform long-term strategies in OA management."
Messier highlighted a related, ongoing study he's leading in which more than 800 overweight patients in North Carolina who suffer from knee pain are being led through diet and exercise interventions in a community setting. The goal is to replicate the IDEA results outside of a clinical trial setting and show skeptical physicians that diet and exercise can be enacted and maintained in this subset of patients.
"I think we know how effective weight loss is, especially when combined with exercise, in reducing pain, improving function, improving quality of life in these patients," he said. "The next step is to allow them to maintain those benefits for a long period of time after the intervention ends."
The study was supported by grants from the National Institutes of Health and by General Nutrition Centers. Its authors reported no potential conflicts of interest.
This article originally appeared on MDedge.com, part of the Medscape Professional Network.
Source: Read Full Article