Editor's note: Find the latest COVID-19 news and guidance in Medscape's Coronavirus Resource Center.
New cases of COVID-19 in U.S. children went up for a second consecutive week, but the pace of increase slowed considerably, based on a report from the American Academy of Pediatrics and the Children's Hospital Association.
New pediatric cases were up by 11.8% for the week of April 15-21, with a total of just over 37,000 reported. The previous week's count — about 33,000 new COVID cases for April 8-14 — was almost 30% higher than the week before and marked the first rise in incidence after 11 straight weeks of declines, the AAP and CHA said in their weekly COVID-19 report, which is based on data from state and territorial health departments.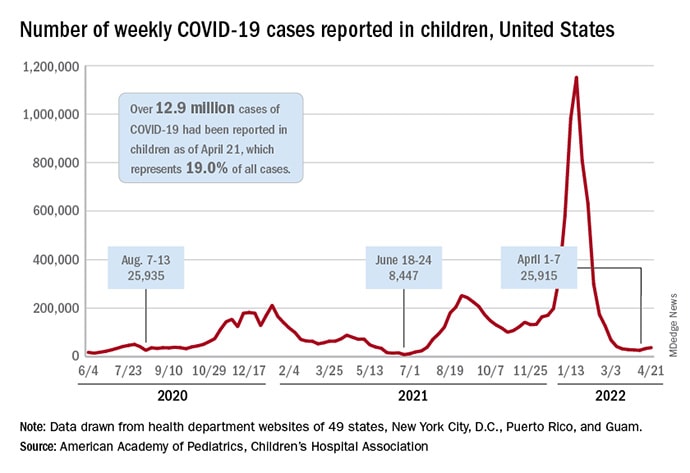 The cumulative number of child COVID-19 cases since the start of the pandemic is now over 12.9 million, with children representing 19.0% of cases among all ages. The Centers for Disease Control and Prevention, which uses a different age range for children (0-17 years) than many states, reports corresponding figures of 12.4 million and 17.6%, along with 1,501 deaths.
ED visits show a similar rising trend over recent weeks, as the 7-day average of ED visits with confirmed COVID has crept up from 0.5% in late March/early April to 0.8% on April 22 for children aged 0-11 years, from 0.3% for 0.5% for those aged 12-15, and from 0.3% to 0.6% for 16- and 17-year-olds, based on CDC data.
The daily rate for new admissions for children with confirmed COVID has also moved up slightly, rising from 0.13 per 100,000 population as late as April 13 to 0.15 per 100,000 on April 23. For the number of actual admissions, the latest 7-day (April 17-23) average was 107 in children aged 0-17, compared with 102 for the week of April 10-16, the CDC reported.
Uptake of the COVID vaccine, however, continued to slide since spiking in January. Initial vaccinations for the latest available week (April 14-20) were down to 48,000 from 59,000 the week before in children aged 5-11 years and 35,000 (vs. 47,000) for those aged 12-17. The weekly highs hit 500,000 and 331,000, respectively, during the Omicron surge, the AAP reported based on CDC data.
Among children aged 5-11, the CDC said that 35.0% had received at least one dose of COVID vaccine as of April 25 and that 28.3% are fully vaccinated, with corresponding figures of 68.8% and 58.8% for 12- to 17-year-olds on April 25.
Among the states, the highest vaccination rates generally are found in New England and the lowest in the Southeast. In Alabama, just 15% of children aged 5-11 have received an initial dose of the vaccine, compared with 66% in Vermont, while Wyoming is the lowest (41%) for children aged 12-17 and Massachusetts is the highest (96%), the AAP said in a separate report.
This article originally appeared on MDedge.com, part of the Medscape Professional Network.
Source: Read Full Article