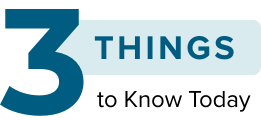 Women Less Satisfied With Cancer Care
Compared with men, women are more likely to feel dissatisfied with their cancer treatment, according to a new survey.
Women were twice as likely as men (14% vs 7%) to say they felt only "somewhat confident" in the quality of their care, according to the American Cancer Society Action Network's Survivor View survey. Women also reported that their symptoms are not taken seriously and that they have to prove their symptoms to providers.
General satisfaction: Overall, 84% of respondents reported feeling "very confident" in the quality of their care.
The reasons: Respondents who described dissatisfaction with cancer care said their symptoms were ignored or dismissed, that they had to push for tests, that they consulted multiple providers before receiving a diagnosis, and that their pain was not taken seriously.

Poor Visual Acuity Linked to Depression, Changes in Brain Structure
Poor vision is linked with depression in middle-aged and older persons, according to new research.
An analysis of data from more than 114,000 participants in the UK Biobank Study showed that visual impairment was associated with a 19% higher risk for depression. The findings were published in JAMA Network Open.
Brain deterioration: Imaging results showed a significant link between deteriorating brain structures and depression in persons with poor visual acuity.
Recommended mitigation: Researchers advised vision screening at an early stage for middle-aged and older people to identify those at risk for depression.

Neighbors Who Share a Doctor Have Better Health Outcomes
Patients who receive healthcare at the same family physician practice and who live close to each other have better outcomes than those who live farther apart, a new analysis found.
Such patients had better cardiovascular health, lower mortality, and lower healthcare costs, according to the study published in Canadian Family Physician. The rate of cardiovascular events was 24% higher among patients who lived the farthest from each other, according to the retrospective study of data for more than 2 million adults.
Why? The lower rate of mortality may result from patients helping each other, researchers said.
Other differences: Patients who live close by were more likely to be women or immigrants, live in low-income neighborhoods, and be in poorer health.
For more news, follow Medscape on Facebook, Twitter, Instagram, and YouTube
Source: Read Full Article