Editor's note: Find the latest COVID-19 news and guidance in Medscape's Coronavirus Resource Center.
California-based emergency physician Simone Melissa Gold, MD, JD, founder of the anti-vaccine group America's Frontline Doctors (AFD) and leading voice in the anti-vaccine movement, has pleaded guilty to one of five charges related to the January 6 Capitol riot.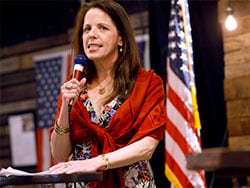 Dr Simone Gold
According to the plea deal, Gold pleaded guilty to charges that she "did unlawfully and knowingly enter and remain in a restricted building and grounds, that is, any posted, cordoned-off, or otherwise restricted area within the United States Capitol and its grounds, during a time when the Vice President was in the building without lawful authority to do so." As part of the agreement, additional charges against her — obstructing an official proceeding and intent to disrupt the orderly conduct of government business — will be dismissed. She also agreed to cooperate with investigators, including allowing them to review social media postings made during the time surrounding the event.
Shortly after she was indicted, Gold told The Washington Post that she did not see any violence and that the event was "peaceful." However, according to news reports, Gold acknowledged in her plea deal that she and her co-defendant, John Herbert Strand, witnessed the assault of a police officer while they were outside the building.
Gold, 56, based in Beverly Hills, California, founded AFD in 2019. The group notes its goal is to "amplify the voices of concerned physicians and patients nationwide to combat those who push political and economic agendas at the expense of science and quality healthcare solutions." Strand is the organization's communication's director.
The group has been a leading proponent of the use of ivermectin as a "safe and effective treatment" for COVID-19, according to its website.
Last year, Gold spoke at an event called The Stand, representing AFD, where she promised to tell "the truth" about COVID vaccines, including that it was actually giving people the virus, that COVID was renamed from the "Wuhan Virus" as part of a cover-up, and touted treatments, including hydroxycholoroquine and ivermectin.
Gold has been one of the leading voices in the anti-vaccine movement. She has more than 400,000 Twitter followers; her Twitter profile includes a pinned tweet saying, "We are living in Orwellian times." In addition to spreading vaccine misinformation, Gold has promoted the use of unproven treatments such as hydroxychloroquine and ivermectin.
Calls and emails to AFD regarding a statement on Gold's plea made by Medscape Medical News were not returned by press time.
In October, Representative James E. Clyburn (D-SC), chairman of the Select Subcommittee on the Coronavirus Crisis, launched an investigation into organizations, including AFD, that spread misinformation and facilitate access to disproven and potentially hazardous treatments for COVID-19. According to news reports, Clyburn called the AFD and other such groups "predatory actors."
Hospitals where Gold previously worked, including Providence St. Joseph Medical Center in Santa Monica, California, and Cedars-Sinai in Los Angeles, have disassociated themselves from her. On July 29, 2020, Cedars-Sinai Medical Center, where Gold previously worked, issued a statement that said, in part, "Simone Gold, MD, has not worked with Cedars-Sinai Medical Center or any of its offices or affiliates since 2015. For three weeks in late 2015, Dr Gold was employed on a per diem basis by Cedars-Sinai Medical Network, a component of Cedars-Sinai. She worked during this brief time in a network urgent care clinic. Dr Gold is not authorized to represent or speak about any information on behalf of Cedars-Sinai."
Gold's medical license in the State of California is current and she has no pending hearings before the state medical board, according to its website. On her own website, Gold says she "voluntarily refused" to renew her board certification last year, "due to the unethical behavior of the medical boards."
Gold is also a licensed attorney, having earned her law degree in health policy analysis at Stanford Law School.
Gold faces 6 months in prison. Sentencing is scheduled for June 16.
For more news, follow Medscape on Facebook, Twitter, Instagram, and YouTube.
Source: Read Full Article