PHOENIX – When Jeffrey Dover, MD, addressed audience members gathered for a session on cutting-edge technologies at the annual conference of the American Society for Laser Medicine and Surgery, he reflected on a conversation he had with R. Rox Anderson, MD, almost 40 years ago, about eventually finding a cure for acne.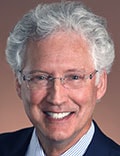 Dr Jeffrey Dover
"Despite the fact that we have over-the-counter therapies, prescription therapies, and all kinds of devices available to treat acne, there are still barriers to care that get in the way of treatment," said Dr. Dover, director of SkinCare Physicians in Chestnut Hill, Mass. "If we had a device based on innovative light science that could meet the needs of the acne patient to get rid of these barriers, wouldn't that be something wonderful?"
The answer to this question, he said, is now "yes," because of advances in lasers that target sebaceous glands.
In a seminal paper published in 2012, Fernanda H. Sakamoto, MD, PhD, Dr. Anderson, and colleagues demonstrated the potential for a free electron laser to target sebaceous glands . Following several years of refinement, there are now two 1,726-nm laser devices – the AviClear and the Accure Laser System – cleared by the Food and Drug Administration for the treatment of mild to severe acne, which have "very impressive results," Dr. Dover said.
"With the 1,726-nm laser, there is some selective absorption in sebum in skin, which beats out absorption in the other chromophores," he said. "But it's not a big difference like it is, for example, for pulsed-dye lasers and vascular targets. … This means that the therapeutic window is relatively small and protecting the rest of the epidermis and dermis is crucial to be able to target these lesions or the sebaceous gland without unnecessary damage. If we can protect the epidermis and heat just the sebaceous glands, we should be able to get Accutane-like results if we get durability [by] shrinking sebaceous glands."
Effective cooling, whether contact cooling, bulk cooling, or air cooling, is crucial to success, he continued. "It's got to be robust and highly specific to protect the skin, so you don't end up with side effects that are worse than the disease."
The AviClear laser delivers seven 3-mm spots, which takes into account the thermal relaxation times of the sebaceous glands. The algorithm delivers a treatment imprint at roughly 0.3 Hz and a 1.5-mm depth of penetration, and the device relies on contact cooling. In pivotal data submitted to the FDA, 104 individuals with moderate to severe acne received three treatments with the AviClear 1 month apart, with follow-up at 1, 3, 6, and 12 months post treatment. They had no other treatment regimens, and the primary endpoint was the percentage of patients who achieved a 50% reduction in inflammatory lesion count 3 months after the final treatment. The secondary endpoint was an Investigator's Global Assessment (IGA) improvement of 2 or greater.
Dr. Dover, who helped design the study, said that, at 3 months, 80% of those treated achieved a 50% or greater reduction in inflammatory lesion count (P < .001). As for secondary endpoints, 36% of individuals were assessed as having clear or almost clear skin; 47% achieved a 2-point or greater improvement in IGA score, compared with baseline, and 87% achieved a 1-point or greater improvement in IGA score, compared with baseline. By 6 months, 88% of individuals achieved a 50% or greater reduction in inflammatory lesion count; this improved to 92% by 12 months (P < .001).
"All of these procedures were done with no topical anesthetic, no intralesional anesthetic, and they tolerated these quite well," he said. "There was no down time that required medical intervention after the treatments. All posttreatment erythema and swelling resolved quickly," and 75% of the patients were "very satisfied" with the treatments.
The Accure Laser System features a proprietary technology that precisely controls thermal gradient depth. "So instead of guessing whether you are delivering the correct amount of heat, it actually tells you," said Dr. Dover, a past president of the ASLMS and the American Society for Dermatologic Surgery. "It correlates surface and at-depth temperatures, and there's an infrared camera for real-time accurate temperature monitoring." The device features highly controlled air cooling and a pulsing pattern that ensures treatment of sebaceous glands of all sizes and at all depths. The clinical end marker is peak epidermal temperature.
In a study supported by Accure, the manufacturer, researchers evaluated the efficacy of the Accure Laser System in 35 subjects with types I to VI skin, who received four monthly treatments 30-45 minutes each, and were followed 12, 26, 39, and 52 weeks following their last treatment. To date, data out to 52 weeks is available for 17 study participants. According to Dr. Dover, the researchers found 80% clearance at 12 weeks following the last treatment, with continued improvement at 52 weeks. One hundred percent of subjects responded. Side effects included erythema, edema, crusting, blisters, and inflammatory papules. "None of these were medically significant," he said.
As dermatologists begin to incorporate the AviClear and Accure devices into their practices, Dr. Dover said that he is reminded of the conversation he had some 40 years ago with Dr. Anderson about finding a cure for acne, and he feels a bit awestruck. "These 1,726-nm lasers are effective for treating acne. I personally think they are going to revolutionize the way we treat at least some of our patients with acne. They may both be effective for treating facial acne scars. Time will tell. Further study of both scarring and acne are needed to fully categorize the benefit and to optimize treatments."
To date no direct clinical comparisons have been made between the AviClear and Accure devices.
Dr. Dover reported that he is a consultant for Cutera, the manufacturer for AviClear. He also performs research for the company.
This article originally appeared on MDedge.com, part of the Medscape Professional Network.
Source: Read Full Article